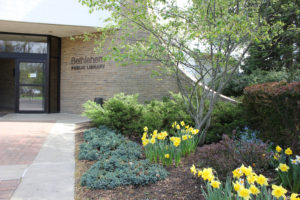 New to Bethlehem? Request a tour of the library next time you visit!
Your new library card lets you borrow from our vast collection of books, movies and more. It also gives you access to the 28 other libraries in the Upper Hudson Library System. Prefer to go digital? Our e-book and e-audiobook collection includes thousands of titles and is expanding all the time. We also offer video streaming services and a huge selection of online learning tools. When you borrow instead of buy, you can save hundreds of dollars a year!
The library is about more than books, though, and we've got a lot of "extras" to offer.
Most importantly, we are a community gathering place where EVERYONE is welcome. If you have any questions, we're here to help. Give us a call at 518-439-9314 or email information@bethpl.org.
We look forward to your next visit to Bethlehem Public Library and can't wait for you to discover all the great library services available to you!
Not sure where to start? Request a Book or Media Bundle, and we'll put together a collection of 10 or more items just for you!
Please explore the digital materials and links below to learn more about the library.