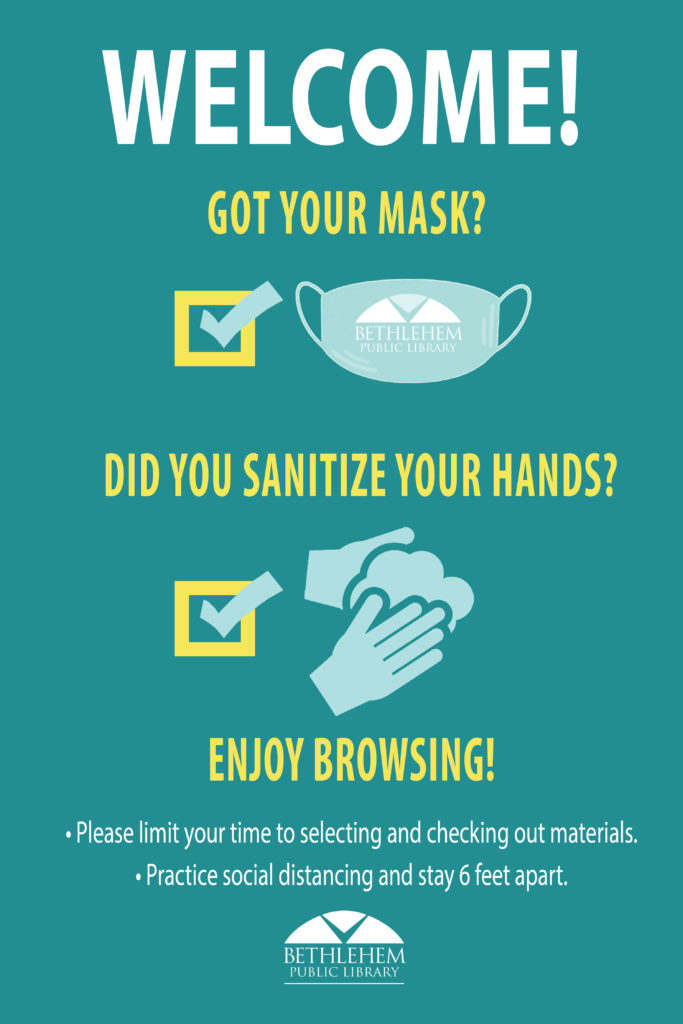 The library is open for in-person use during the following hours:
10 a.m.-7 p.m. Monday-Thursday
10 a.m.-5 Friday
10:30 a.m.-5 p.m. Saturday
What you need to know before arriving
We are requiring our visitors to wear masks when inside the library. *Please avoid bandanas, neck gaiters and face shields without a mask. Masks will be mandatory regardless of a person's vaccination status. If you are not feeling well or running a fever, please visit us when you are feeling better. 
We have installed touch-free faucets in our public restrooms and have located hand sanitizer dispensers throughout the library. We are asking that everyone sanitize their hands before browsing.
We are limiting the number of people inside the library at any given time. It might mean there could be a short wait before entering. We are grateful for your patience and understanding as we figure out this new process and work to make it both efficient and safe.
Because others might be waiting, we are asking our patrons to limit their time inside to simply selecting and checking out materials.
Inside seating, children's toys and public computers are not available at this time. A printing station will be set up for limited use.
Children under 12 must be accompanied by a caregiver.
If you pick up something while browsing but decide not to check it out, you'll be able to drop it off at a designated cart so staffers can wipe it down before returning it to the shelves.
Programs, board meetings and other events will continue to be virtual at this time. To find out what's coming up, check out our online calendar. 
Returned materials are quarantined for 48 hours. You can drop them off in the designated sheds in the library parking lot. Because of the quarantine, items may not show up as returned on your account right away. Don't worry, we are continuing to waive late fees at this time.
Please know that even as we bring back new ways of accessing the library during the pandemic, we are keeping other services like curbside pickup and Book Bundles that allow you to decide how much contact you are comfortable with. We are looking forward to serving you in this way until we are able to safely gather together as a community once again.