This Friday afternoon series features a variety of speakers and musicians. Coffee and Conversation is now offered virtually. Sign up through the library calendar to receive an emailed invitation.
The series is co-sponsored by Bethlehem Senior Projects, Inc.
The Civil War: A Military History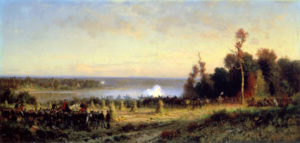 Coffee and Conversation is presenting a four-part series featuring noted speaker Giacomo Calabria highlighting the military science of the American Civil War. Learn about the inner-workings of the Lincoln administration, Union and Confederate military strategies, Civil War era weapons and technologies, and some of the major battles and campaigns.
This series takes place Fridays, April 9-30 at 1 p.m. Sign up here.
*Grant-funded by Humanities New York.