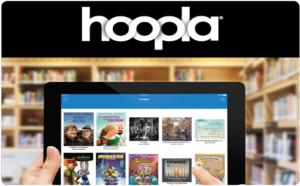 Hoopla: eBooks, eAudiobooks, movies and music
Hoopla allows you to borrow movies, music, magazines, audiobooks, ebooks, comics and TV shows to enjoy on digital devices. With no waiting, titles can be streamed immediately, or downloaded to phones or tablets for offline enjoyment later.
Click here for a quick guide to Hoopla (pdf).
How it works:
You will get ten instant borrows each month. These digital borrows will reset every month and you can borrow more than one title at a time.
Books are available for 21 days, videos are available for 72 hours, and music titles are available for 7 days after you borrow.
Hoopla is available on your desktop, phone, tablet, Alexa devices, Roku, Apple TV, Fire TV, and Android TV. Download the app to take your borrows anywhere.
To sign up for Hoopla, visit Hoopla Digital, and select Get Started Today. Follow the prompts to create an account, select Bethlehem Public Library and enter your library barcode.
For help with Hoopla, please visit the Hoopla Help Page. If you need help with your library card or PIN, please email information@bethpl.org.